Pool Bingo!
How to build more fun & pool games into your summer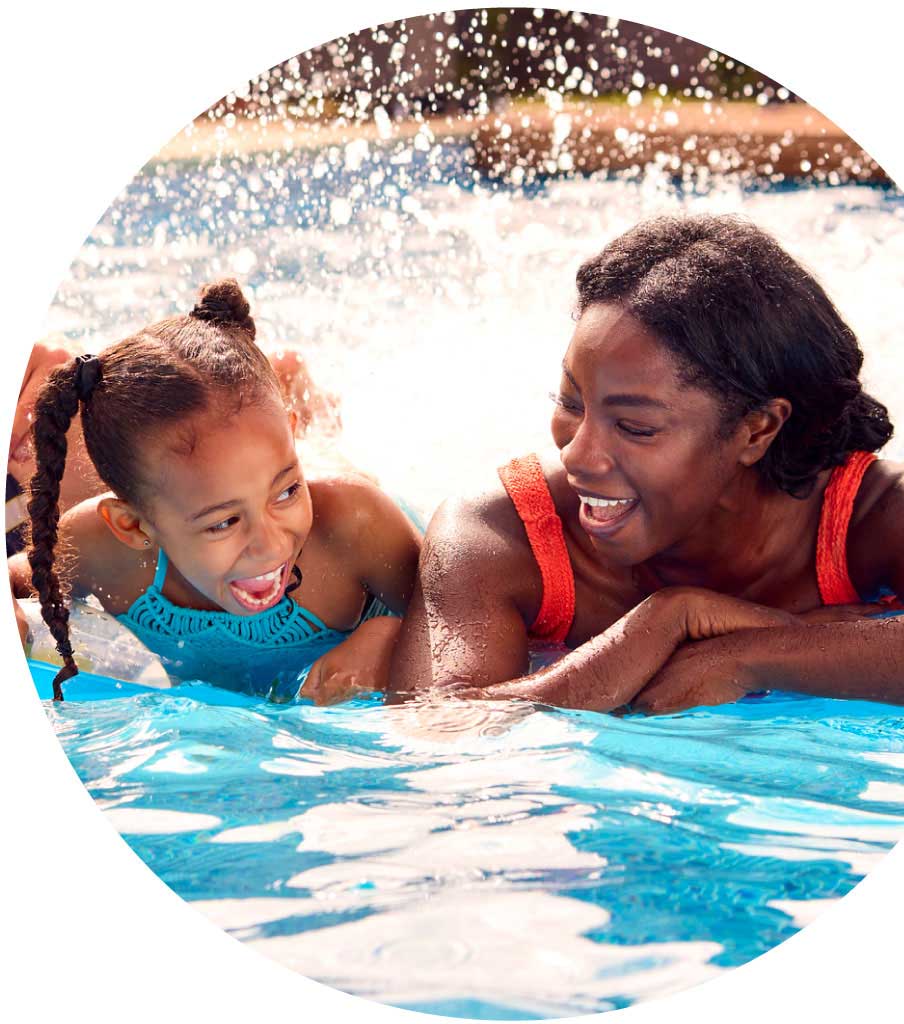 Let this be the summer you level up your family fun at the pool! Whether you've had a pool for years or are new to the pool game, we've put together a Free Summer Pool Bingo Card with tons of ideas to make every weekend (or weekday) more fun to dive into! Print it off and share it with friends, family and neighbors. Be the first to mark off all the squares with Xs and WIN your summer fun!
But first, a safety check!
Before the fun begins, it's always a good idea to brush up on your water safety. Since May is National Water Safety Month, now is the perfect time! Here are five tips to keep swimmers, especially younger ones, safe in and around the water.
Tip #1: Remind kids to always ask permission before going in or near the water.
Tip #2: Make sure a lifeguard is on duty, or a responsible adult is watching children while they swim.
Tip #3: Don't encourage breath holding activities or games.
Tip #4: Less experienced swimmers should always wear a Coast Guard-approved life jacket.
Tip #5: Remind young swimmers never to jump in and try to save someone who is struggling in deep water — it's better, and safer, to find help first.
Let the fun begin!
Now that you're armed with the top 5 water safety tips, it's time to take the plunge into swimming fun! Lucky for you, our Summer Pool Bingo Card includes pool games for all ages.
Jump & Dive Contest
Challenge the kids and grandkids! From who has the "cleanest" dive to who has the most creative jump, there are plenty of ways to make this pool game a blast. And be sure to follow HTH™ on social, because there just might be scoring cards coming your way.
Movie Night
Set up that screen, hook up the projector and grab your best relaxing floaties for a movie night by the pool. We suggest your favorite swimming-themed movie, but anything is fair game!
Picnic by the Pool
Who doesn't love eating outside in the summer? A picnic by the pool makes it easier to get right back to swimming with no need for drying off. Plan on hot dogs and burgers on the grill with your favorite disposable plates and glasses for easy clean up.
Celebrate National Camera Day: June 29th
National Camera Day is THE perfect day to grab your camera and take some awesome family photos by the pool. #SwimmingSelfie
Patriotic Pool Party
Grab your red, white and blue swimsuits and floaties and jump into a July 4th pool party. It's as simple as that! Make sure to have HTH™ Pool Care Shock Advanced on hand for clean and clear pool water.
National Swimming Pool Day: July 11th
Pool owners unite on July 11th to celebrate National Swimming Pool Day. No matter what your plans are for this day, make sure they include a moment to relax and enjoy the benefits of having your very own pool.
National Watermelon Day: August 3rd
National Watermelon Day? That's a holiday?! Of course it is, and we've got ideas for you to make the most of it. If simple is your thing, just cut up a watermelon and bring it poolside for a refreshing treat. To kick up your celebration, play The Watermelon Pool Game. We recommend investing in a Watermelon Ball to keep your pool nice and clean.
Pool Floatie Fun
We love a good pool floatie. Whether it be a lounger, a turtle or even a pizza slice, floaties are fun for everyone, no matter the occasion or day of the week.
National Relaxation Day: August 15th
Celebrate National Relaxation Day with a contest: Who can float the longest in the pool or fall asleep fastest on the lounger? (Safely, with sunblock, of course!)
A cover-all on your pool bingo card means a full summer of fun and a bunch of brilliant pool party ideas— enjoy and make the most of it! Want more summer ideas and inspiration? Follow us on social media (Facebook, Instagram and YouTube) and be sure to sign up for our newsletter!
Download your printable Bingo cards here!
Want more?
If you have additional pool water care or product questions, we're always here to help.
Our Pool Opening page also has great info to make sure the start of the season goes swimmingly.
You're all clear with HTH™!
Need more help?
Live chat
Chat live with an HTH® Helpline expert.
Chat now
Call us
Prefer to call us? We've got someone standing by daily from 9 a.m. – 7 p.m. ET, Monday – Friday
(866)-HTH-POOL