Match your test strips or liquid
After you've tested your water, you can use our interactive chart to get quick and accurate recommendations. Simply match the results on your HTH® Pool Care 6-Way Test Strips or HTH® Pool Care 6-Way Test Kit to the color-coded chart below. Select the color box for each chemical and then click Get Results. That's it!
Keep scrolling to find tips on how to get the best test results with HTH®.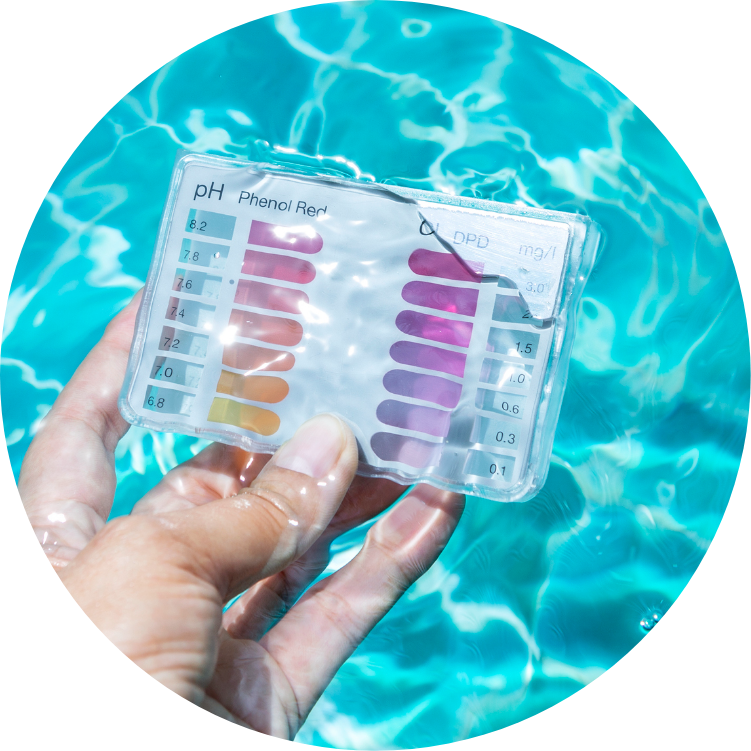 Need a refresher before matching your test results? No problem! Refer to the quick tips below. For a deeper dive, visit the HTH® Pool Care 6-Way Test Kit product page. And don't forget, if you have a myHTH account, you can store your test history and keep track of your favorite HTH® products.
HTH® 6-Way Test Kit: Quick Tips
1. Collect a water sample approximately 18 inches below the water surface or up to your elbow.
2. Hold the bottle vertically and dispense drops into water sample.
For a full list of tips, download our HTH® Pool Care 6-Way Test Kit Guide.

WARNING: Do not dispose of test solutions in swimming pools or spas. Rinse cells before and after each test.
Need more help?
Live chat
Chat live with an HTH®Helpline expert.
Chat now
Call us
Prefer to call us? We've got someone standing by daily from 9 a.m. - 7 p.m. EST.
(866)-HTH-POOL